Answers to your common questions
Last update: March 16, 2023
We have summarized the most common questions for you. If you have any further questions, please don't hesitate to contact us.
Customer account
Shipping and Delivery
Products - Orders
Customer service
---
Compte client
Who can order your products?
The products offered at Kirelcraft are exclusively reserved for resellers, associations and facilitators. We do not sell to individuals.
How to create my account?
All you have to do is register at this address: create my account
Then send us by email with proof of your professional activity, which may be, depending on the case, :
- a K-bis extract
- your Siret number
- the minutes of the general assembly for the associations
etc…
at this address : contact@kirelcraft.com


I lost my password, how can I find it?
On the login page, just click « Forgot your password? », Then enter the email address you registered with. You will then receive an automatic reset email.
If that doesn't work, contact us and we'll give you a temporary password.


I created my account but I can't place an order, I don't see the prices, why?
As we only send our products to professional customers, we check and approve the registrations on a proof provided by you.
This element may be missing and therefore your access to the site is limited.
Do not hesitate to contact us at contact@kirelcraft.com
I'm going to move, how can I change my address?
You can change your address in your customer area / Addresses
I lost my invoice, how do I get a copy?
You can find your invoices in your customer area / History and order details:

---
Shipping and Delivery
What are the shipping rates
The shipping cost will depend on the weight of your package. Free shipping is €330 excl. VAT for France by DPD and €380 excl. VAT for Zones 1-2-3 by GLS
What are the delivery times?
Stocks are in Haute-Savoie and are shipped to France via DPD, generally within 24/48 working hours. For deliveries in Europe via GLS, the delivery time is approximately 4 working days.
What are the shipping times?
orders placed and paid for before 11:30 a.m. are usually dispatched the same day, otherwise the next day.
Has my order been sent?
At the end of the day from 6 p.m., if the order has been dispatched, you will receive an email with the tracking number and the corresponding invoice.


---
Products and orders
>>> The stock of the site is updated in real time
What is the minimum order amount?
The minimum amount of an order is €50 excluding VAT.
I want to order but a product is marked out of stock. can i order it?
You can place your order by adding the reference of the product concerned, as well as the desired quantity in the comment box of the basket. Then choose "bank transfer" as the payment method. We will contact you the same day to inform you of the availability of the product, and we will adjust the amount of the order and the amount of the shipping costs if necessary.
A reference is out of stock, when will it be available again?
An indicative date of return to stock is noted on the product sheet.
For each reference on the site, you can subscribe to the return alert, you will then receive an email when the product is available again.


Can I combine two orders placed several days apart?
Yes, this can be done exceptionally.
To do this, for each order, choose "bank transfer" as the payment method, and send us a message (or leave a message in the comment area of the basket) to let us know. The first order will be put on hold and we will adjust the transport costs when validating the second order.
Can I modify my online order once it has been validated?
If your order has not yet been transmitted to the shipping platform, you can have it modified. For this you must contact us immediately at this address contact@kirelcraft.com
The item I ordered is damaged, what can I do?
Contact us upon receipt by email, and send us a photo of the defect, we will offer you a solution, either by credit note or by reshipping the product.
My order is missing an item, what can I do?
Contact us upon receipt by email, a check will be made with the shipping platform and a solution will be found quickly.
My customer notices a damaged product, what can I do?
Send us
by email
the photo of the damaged product and the customer's address. We offer to send the product directly to him.
How do pre-orders work?
Pre-orders concern:
➤ products in the pre-order category
➤ out-of-stock products that will be remanufactured
➤ On the pre-order reference sheet, a text is added, as you can see in the image below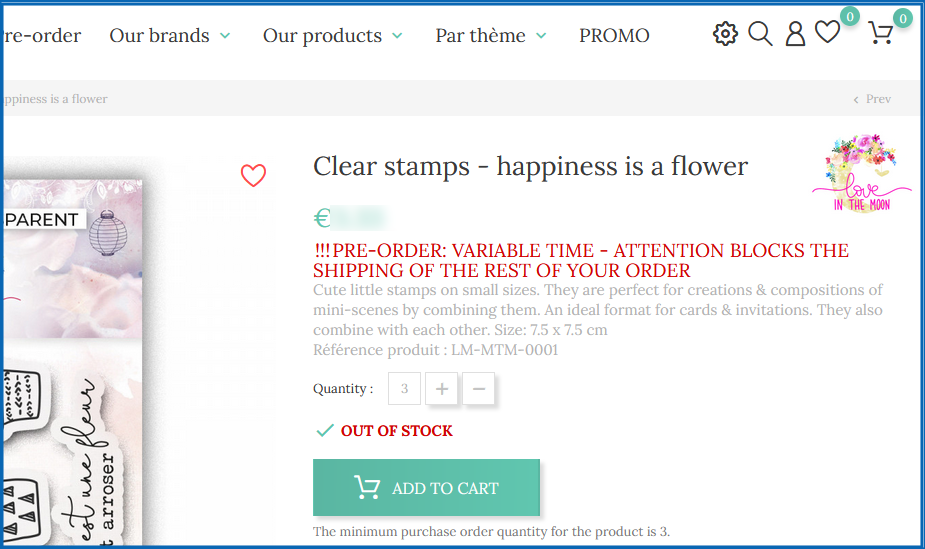 ➤ Caution! a pre-order product blocks your entire order!
If you wish to receive your order quickly without the pre-ordered references: note it in the COMMENT area of your basket. Pre-ordered references will be reserved for you and shipped with your next order.
➤ The simplest solution is to place 2 separate orders:
1 - an order which only includes immediately available references
2 - a second order which only includes pre-order references.

➤ The delivery time for a pre-order is variable and can range from 2 to 20 days before it can be shipped.
I am looking for visuals of the products I ordered, where can I find them?
For each new collection, a wetransfer link is available in the site menu. This link is only valid for one week after the newsletter announcing the new products has been sent. It is important to download these files quickly.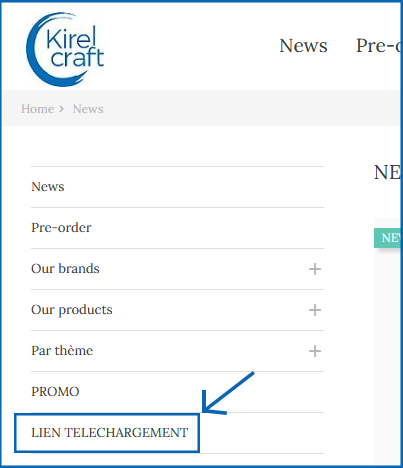 If you missed this link, contact us by email at contact@kirelcraft.com by telling us which collections you want to download.
Stock information for the AALL & Create brand
AALL & Create brand stocks are managed differently from other brands.
Here is the important information to remember: From stamp #200, the entire catalog is available:
➤ If in stock, immediate shipment,

➤ If pre-ordered, shipping within 15 days.


If your order contains pre-ordered AALL & Create products, you have 2 choices:


➤ Shipping of what is in stock and any remaining items attached to your next order

➤ Or waiting for the complete order to ship

You choose! To do this, simply add a message to your order basket or contact us by email to inform us.
---
Customer service
Our customer service can be reached as follows :
- By phone Monday to Friday from 9:00 a.m. to 5:00 p.m. at + (or 00) 33 9 52 77 67 19
- By email at contact@kirelcraft.com
- By Contact form